The equity markets have confused and whipsawed many investors in 2020 with the boom, bust and boom price action. The S&P500 finished the first half being down about 4% as the global economy came to a standstill. TRI's post on March 1, 2020 – Central Banks Are Not Equipped For Today's Crisis, appears to bear more fruit as each day passes.
Central banks and governments reacted very quickly to the Covid-19 pandemic by firing bazookas of monetary stimulus and fiscal programs, only to figure out where and how those programs could best be implemented, but before they understood the root cause and symptoms of the economic and market issues. Fire first, aim second and finally be ready and figure out why you did the first two. Mind-boggling to the TRI, and fraught with many intended consequences.
Unfortunately, these actions are likely to extend the current economic pain and create further issues that will be tougher to address.
Low-Interest Rates Have "Zombified' businesses
As seen in the chart below from Deutsche Bank, almost 1 in 5 US companies interest costs are higher than their profits. In other words, a lot of companies are borrowing and increasing leverage to meet their cashflow obligations. Artificially low-interest rates have allowed companies to do this but at a very large cost.
Businesses follow the economic cycle, just as the weather tends to follow the seasonal cycle and the sunsets and rises with Earth's daily rotation. However, central banks continued to push to smooth the business cycle lows has created a tinder box of inefficient companies. The organic nature of business being allowed to or being forced to restructure when the business cycle slows or their business structure no longer makes economic sense barely exists. Creative destruction is a key principle in capitalistic economies, which also helps drive innovation and creates the right incentives. Central banks and governments have handcuffed innovation and incentives.
Equities Crush Profits
As seen below, asset prices have vastly outperformed GDP, wages, inflation and commodities over the past decade. Investors have been willing to pay more for the same "asset" in 2020 than they were in 2009 partly because interest rates have been held artificially low for too long.
… But Not All Assets
The large mega-cap tech names of Amazon, Apple, Facebook, Google (Alphabet), and Microsoft have vastly outperformed every other company in the S&P500.
The capital flow into these tech names has resulted in the Nasdaq going parabolic. Extreme caution should is warranted at these levels as its best for stocks to rented not owned. TRI reminds investors, that "liquidity masks performance" and the flush of central bank money does not create a stable base for the bounce out of the March lows. Many investors appear to be taking the same Fire, Aim, Ready approach as central banks and governments.
V or W Recovery?
TRI analysis points to difficult economic times ahead for the global economy:
– shifting of supply chain to local from global production
– mass unemployment in-service economy
– credit issues across commercial real estate and corporation
– the intending consequences of "paying people more to not work, than to work"
– lack of time since the economic shock to allow the economy to reconfigure
All points to the likelihood of a "W" shaped economic recovery as pointed out by the OECD below.
Less Capex
According to data compiled by Refinitiv below, Capex is expected to fall over 12% in 2020. This is larger than the 11.3% fall seen in the Global Financial Crisis of 2008/9. All sectors, outside of Utilities are reducting their CAPEX this year. Another reason, the above 'W' style economic recovery is more likely than not.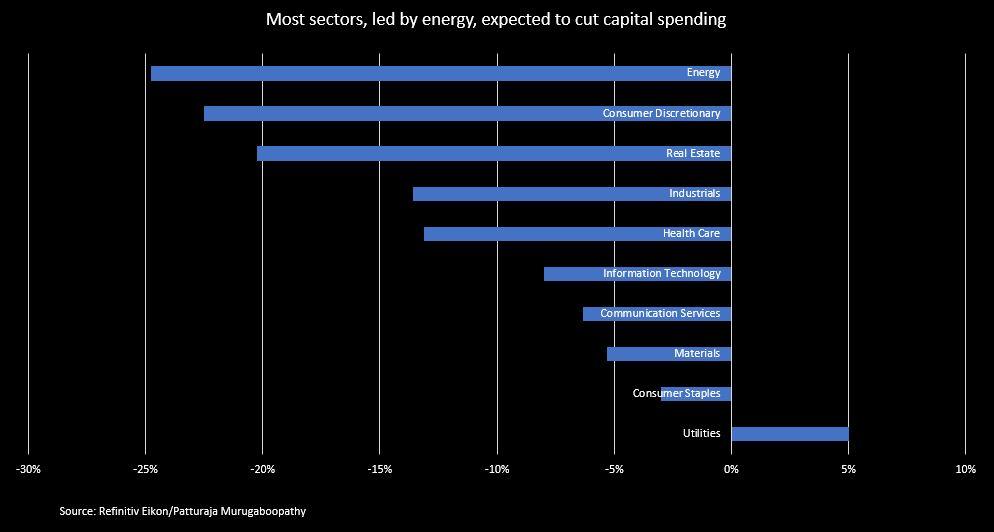 Markets Are Not The Economy
TRI has stated many times the markets are not the economy and they can move in the same direction or diverge for extended periods of time.
Cyclically speaking, the recent daily cycle low likely occurred on Jun 29 and TRI expects a weekly cycle low in late July to early September time period. This would also align with the next daily cycle low in that time period.
The S&P500 has bounced out of the Jun 29 low and we expected higher prices short-term as this bounce completes. The cyclical structure is pointing to lower prices that could test the Jun 10 lows.
Commodities Are Not Buying It
Or shall we say commodities are not being bought? In a strong cyclical or secular rally, TRI would expect commodities to be in higher demand and prices to rise similar to, if not faster than overall equity markets.
A Cautious Note on Gold
Gold has rallied significantly since 2016 and is now bumping its head into the $1800-$1900 resistance zone. TRI would expect a period of consolidation and/or correction as it enters this zone. TRI cautions investors that given the uber bullish sentiment along with rally into the former all-time high zone, risks are elevated and taking (some) profits never hurts.
TRI Cycle & Trend Signals*
The TRI Cycle and Trend Signals are shown below. These signals are as of market close on July 10, 2020. Please see the TRI Overview document for further information.
* TRI Cycle and Trend Signals are dynamic and may change on a daily, weekly and monthly basis, without notice. The indicators are at a point in time and do not imply that the current trend will persist and should not be considered investment advice.
Disclaimer: This material has been provided solely for information purposes for the use of the recipient and Fieldhouse Capital Management Inc. (FCMI). This material does not constitute an offer or an invitation by or on behalf of FCMI to any person to buy or sell any security. It should not be assumed that the methods, techniques, or indicators presented in these pages will be profitable or that they will not result in losses. Any reference to past performance is not necessarily a guide to the future and the value of investments may fall as well as rise. FCMI accepts no liability for any direct or consequential loss arising from investments made in accordance with the attached material. The research and analysis contained in the attached material has been procured from sources which are believed to be reliable and accurate.